Industry News
WhatsApp Business Template Messages – Examples and Use Cases

Using WhatsApp Business template messages is a great way to improve communication between a business and its customers.
In this blog, we're going to discuss what WhatsApp Business templates are, how to create them and which ones are the most effective.
Contents: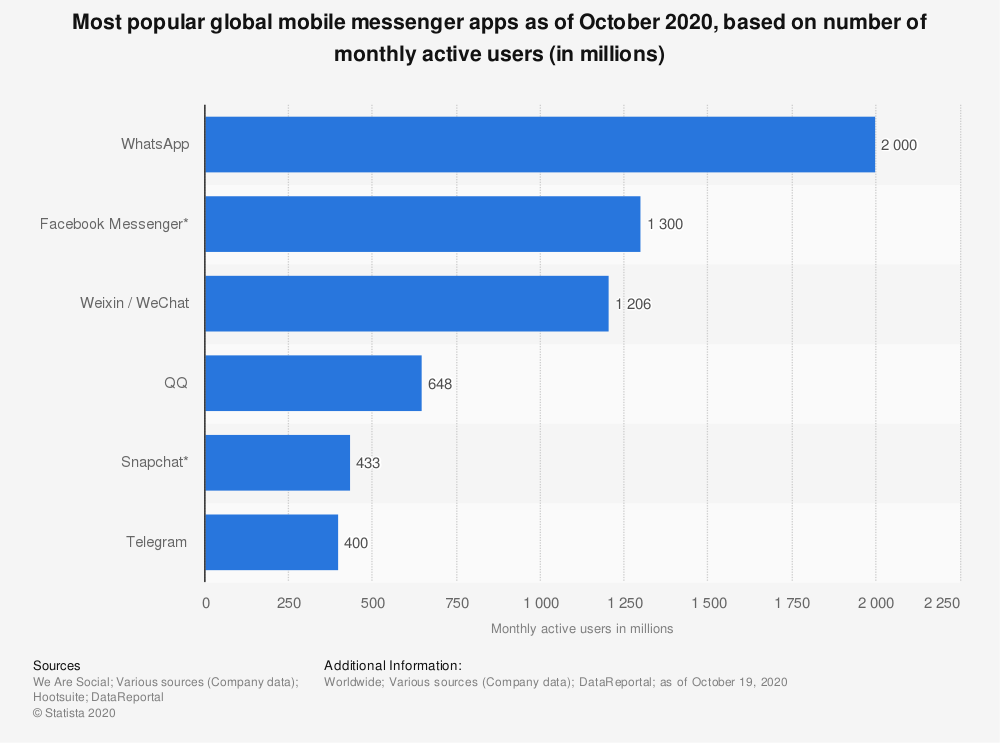 What is a WhatsApp Business template message?
WhatsApp Business template messages are a message format that are used in business communication with customers. Also known as Highly Structured Messages, or HSM, they are used primarily for sending notifications with customer consent or sending customer messages such as payment updates, delivery information,  appointments and many more.
It's also important to note that they can't contain any promotional content. Essentially, it is an automated customer support system which engages with your customers efficiently and in real-time.
WhatsApp Business template messages formats
There are 2 primary message formats when we're interacting with our user. The difference between Message templates versus Session messages is that Template messages are predefined and need to be approved by WhatsApp, while Session messages start when users initiate communication first.

Session messages also give users the opportunity to reach out to you on their preferred channels. It's also important to mention that when a user starts to chat with a company, they immediately provide a range of information that is not that easily obtained in most cases.

Ultimately, both types of messages make it easier for users and companies to get necessary information.
Examples of WhatsApp Template messages
Message Templates are used when a company reaches out to a customer and initiates a conversation. Their content can't contain promotional messages, but it can contain different alerts or notifications that we mentioned above. These kinds of messages can improve customer service because of the variety of messages and services one company can offer.
Delivery updates
Keep your customers informed about ongoing orders. Everyone likes to know where their package is and with shipping status notifications you're able to send updates in real-time.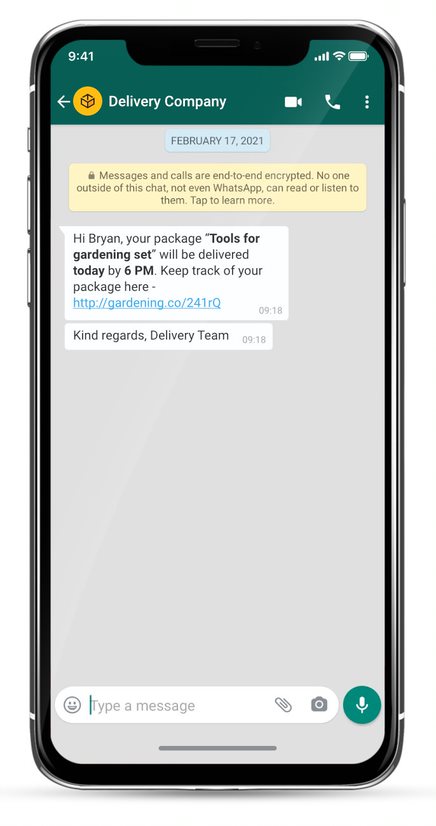 Account updates
Let's say a user made a request to change their password in their system or a web shop. Thanks to the account update, they will also get a notification of changes in their account. This type of notification also lets users know if they personally made a request, or someone else is trying to get in their account.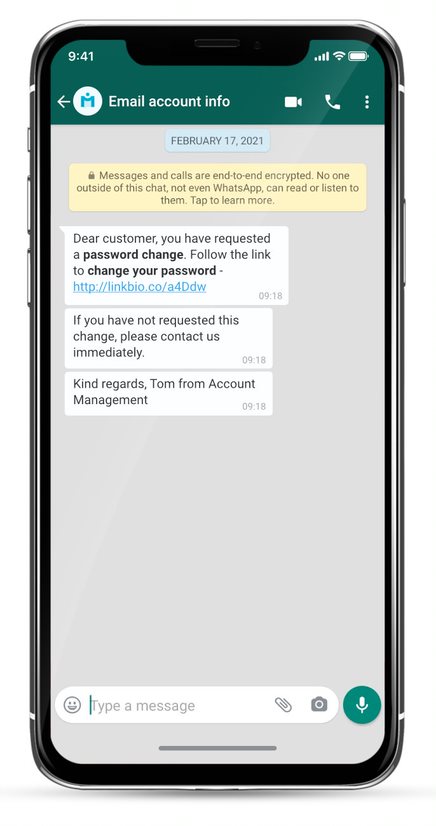 Appointment updates
Your user made a hair appointment? Using these updates you can send them a confirmation or reminders of the appointment.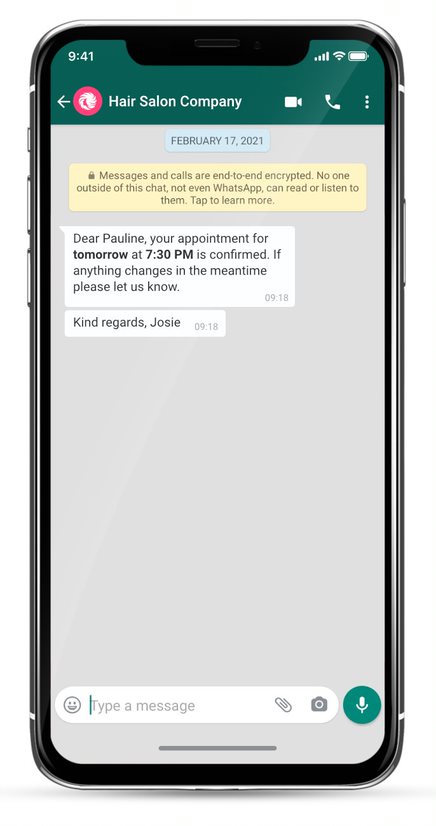 Reservation updates
This is one of the best templates for being a user-friendly business. You can use reservation templates to inform users about their reservation. For example a couple made a reservation for a hotel and you are able to inform them through a message template that their room is ready.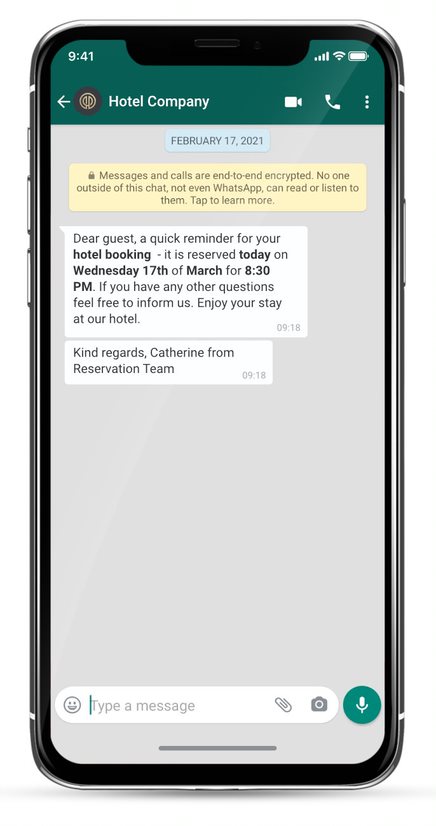 Payment updates
Using these updates can be extremely beneficial for your business. Has your user made a purchase through an online web-shop? Using payment templates gives them an update if their payment has been received.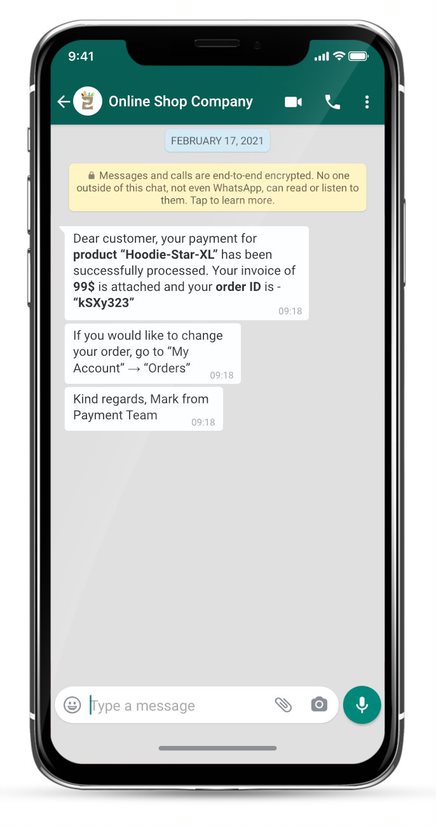 How to create a WhatsApp Business account
WhatsApp Business accounts are not available directly through the WhatsApp mobile application. First you need to apply through a WhatsApp partner to get your account approved. Choosing a WhatsApp partner is best when you know your company needs and goals. When a partner approves your request, you will need to set up a WhatsApp Business profile which is similar to a regular one but has additional business information like business hours, website and address. 

After you've updated your profile you will need to activate a business number for communication. When everything is ready, the only thing that is left is an opt-in permission from users before sending any messages, as this is a requirement by WhatsApp Business policies.
How do I create a WhatsApp template?
When you're done with creating your WhatsApp Business profile, you're ready to create your first message template. WhatsApp templates are created in WhatsApp Manager, which is already a part of your WhatsApp Account in the Facebook Business Manager.
Main components of a message template are: Message template name, content of the message template and translations if you want to use your message in multiple languages. 
When you have your message template name ready, you need to decide which content you want to send to users. Mostly those components include media files and text. It's important to note that before any type of communication, the WhatsApp team needs to approve your template and make sure it isn't breaking any WhatsApp guidelines.
WhatsApp template message price
According to Facebook, when someone messages your business, you can also use the WhatsApp Business API to respond to questions or comments for free within 24 hours.
If a business waits more than 24 hours to send a template message response, they will be charged for the message. The non-promotional content messages sent to customers will also be charged at a fixed rate.
That fixed rate varies significantly per country. In general the range for these messages is roughly half of $0.01 to $0.09 per message delivered.
Interesting projects that used WhatsApp template messages
As we already mentioned, many new business opportunities or new channels for customer service are created using WhatsApp templates. During the pandemic, there were even more opportunities for engaging communication and every business looked for new creative ways of keeping up with their users.
Covid-19 updates and notifications
When the pandemic started, the World Health Organization created an official WhatsApp Business account to offer WHO Health Alerts with the latest facts and figures. There was a lot of fake news and unreliable sources giving information about Covid-19, so the WHO made sure they were a reliable source of information. What channel did they use? – WhatsApp.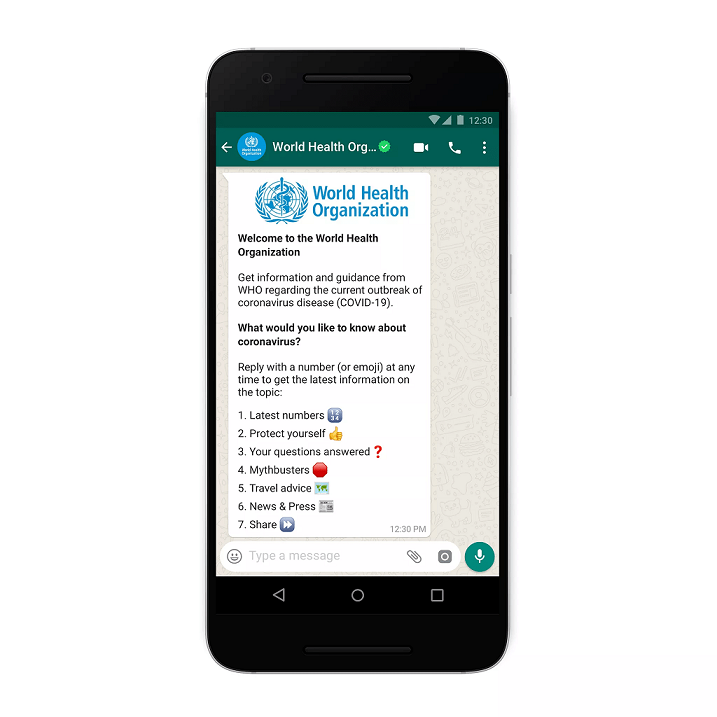 They created a chatbot that provided information about: latest news in various countries, traveling, symptoms and protection information. Their chatbot also had a "Coping with stress" section where they provided useful information on emotional stability during the pandemic.
Facebook Ad campaigns using WhatsApp

For example let's say you ran a Facebook campaign which includes WhatsApp as a primary source of communication. Before any campaigns, you need to connect Facebook with WhatsApp for this to work in the first place. After that people can message you, look at your profile and see what you do. If users send a message, setting up an automated welcome message is a great option for quick responses and engaging with customers. This removes manual replies and brings a new approach towards saving time and improving efficiency.
Conclusion on WhatsApp template messages
To conclude, it is safe to say that WhatsApp template messages are on an upwards trend since they were incorporated in 2018 and have seen growth in usage numbers since then. Many business opportunities come from template messages and this type of communication creates a personalized, safe and spam-free relationship between companies and users.