Industry News
2-Way SMS – Use Cases and Benefits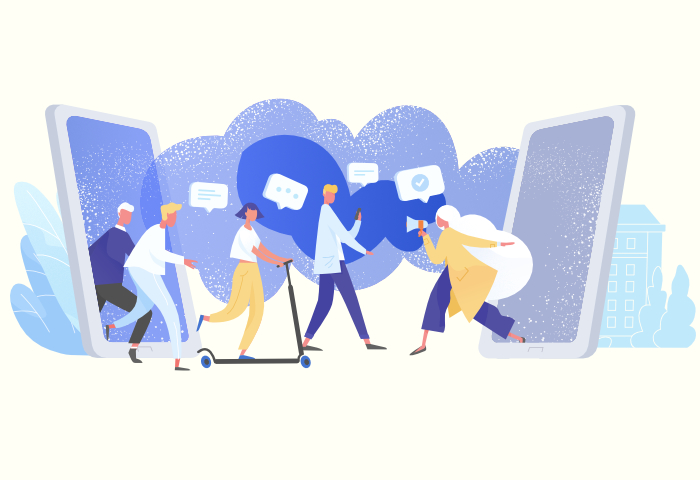 SMS is the most efficient communication channel for delivering information to the recipient, whether it's a customer, partner or a colleague. Because they are short and direct, SMS messages have the highest open rates of all the communication channels.

Even though most SMS services used for business communication are one-way, there are cases when you need to get some sort of feedback from your recipient, and this is where 2-way SMS comes in. In this blog, we're going to cover what 2-way SMS is, how it works and where it can be used most effectively.
Contents:
What is 2 way SMS?
Unlike a traditional SMS messaging service for business which is one-way, two-way SMS allows you to send an SMS message and receive a reply. This can be done via a web-based messaging platform or API using a dedicated virtual number, or short code.
How does 2-way SMS work?
First, you need a virtual number for the country in which you want to establish a 2-way SMS service for your business. There are 2 types of virtual numbers: long numbers which are usually used for calls (e.g. +12 345 6789), and short numbers (or short codes) which are used in SMS communication (like 1234).
A short code is used for two-way SMS communication – it becomes your sender ID from which you can initiate communication with a recipient via SMS, and to which you can receive a reply from them.
Most common examples of 2-way communication
Reservations & confirmations

Across all industries, customers on average miss 10-15% of their booked appointments, costing companies a significant amount of their profits. Considering this, it can mean a lot to send an appointment reminder to customers so they can confirm it. This is easily done using 2-way SMS.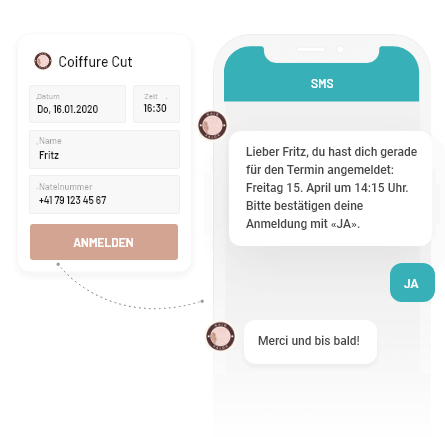 Deliveries & orders

Tracking packages and confirmation of their arrival can help reduce the number of undelivered packages. This improves customer satisfaction because they are notified about deliveries on time, but it also saves your budget, since it eliminates unnecessary costs which would otherwise be used up for handling undelivered packages.
Promotions
Two-way SMS is ideal for use in promotional campaigns. For example, customers can start interacting with your sales team by sending a simple text message. In this way you can gather new contacts for further sales and marketing activities.
Customer feedback

By sending an SMS with a shortened URL, you can immediately send surveys to your customers and design them dynamically. Gaining valuable feedback can mean a lot, considering it will improve your services, your relationship with customers and provide precise data.
Main benefits of 2-way SMS
1. Increase overall engagement and revenue

SMS open rates are always well above 90%, and most SMS messages are read within the 3 seconds. SMS open rates are considerably higher than e-mail messages. Because of that there's a higher chance users will make a purchase when used in a promotional campaign. Also, you can customize your messages based on location, demographic or previous purchases from users.
2. Save your communication budget
Compared to other types of marketing, SMS campaigns are cost-effective. This is both good for users and companies since you're providing users to talk with you for a low fee or free. Therefore companies don't have to invest a big portion of their budget for extra communication tools. Because it's cost-effective, this type of communication is suitable for small businesses since they don't have a big budget when starting out.
3. Receive feedback to improve your offers

Feedback is a crucial factor of growth and development for any type of business, and 2-way SMS is an easy way to get it.

For example, after a customer receives their product, they get a SMS message with text such as: "How would you rate our service from 1-10?" It takes only a couple of seconds to respond and also increases the chances of users to engage with the message.
4. Analyze user behavior and enrich customer database
2-way SMS can be integrated with systems like CRMs (Customer Relationship Management) and CDPs (Customer Data Platform). They help you in analyzing your users and customers further. Using these, you can personalize messages and schedule sending according to the data you acquire.
How to use 2 way SMS efficiently
Information and trust is important
Getting information and consent from users, so you can send them messages in the first place isn't an easy task. Nobody wants spam on their private phones, so SMS messages should contain relevant information. If you provide accurate information and keep your messages short and clear, your users will communicate back.

Every SMS message you send is either a chance for building a stable relationship with your users or a chance of losing trust. Personal data is used for personalizing messages and improving the overall user experience. It should definitely not be used for sending bulk messages that contain no character at all.
Keep the conversation active

After the initial point of consent and users receiving your message, the next step is to continue the conversation if they replied. Even if it's a simple thank-you note, it can mean a lot if it's personalized because it creates trust. If you continue conversations with users, you can also gather important data. Mainly about their preferences and use that data for better understanding of their behavior, history or future intent.
Create and update your database

To be efficient when incorporating 2-way SMS in your business, one of the most important factors is to keep track of your database. With a contact database that is always up-to-date, you can also reduce SMS costs and reach contacts more precisely.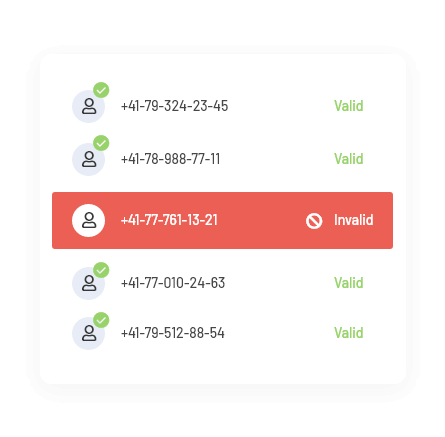 Conclusion – why use 2-way SMS in business communication
2-way SMS is definitely one of the best ways to keep your users happy and involved in communication. Its benefits and efficiency is the reason why many businesses spend their budgets on this type of communication. The technology behind messaging is constantly updated and new things are coming to the market.
Learn more about how your business can use SMS here.